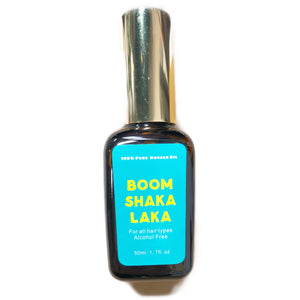 What it does: 
If you're looking to make hair softer and more manageable, use Boom Shaka Laka !
Boom Shaka Laka Wonder oil is a beauty secret that has many uses, helping to hydrate and soften your hair. With its high content of antioxidants, essential fatty acids, and vitamin E, the benefits of Boom Shaka Laka naturally help increase hair's elasticity and consistently restore shine to dull, lifeless hair. It is a powerful antioxidant and UV-protector !
How to use: Apply a small amount to clean, towel-dried hair from mid-lengths to ends. Blow-dry or let dry naturally. Apply on dry hair to tame flyaways, condition split ends and smooth hair.
Paraben-free; sulfate-free; alcohol-free; phosphate-free